Leslie Marchetti Named New Principal of Hillsboro Intermediate School
The Hillsboro R-3 School District is proud to announce that Leslie Marchetti will be the Principal of Hillsboro Intermediate School beginning the 2023-24 school year. Mrs. Marchetti was selected to replace Mr. Scott Readnour, who will retire at the end of the current school year.
Upon acceptance of her new role, Marchetti stated, "I am proud to say I'm a Hawk and look forward to keeping strong traditions at the Intermediate while maintaining a vision for a bright future."
Serving as an educational leader is not new for Mrs. Marchetti. Currently the Principal of Hillsboro Elementary, she was previously the Assistant Principal at the Intermediate School from 2016 to October of this year. Additionally, she was a District Instructional Coach from 2014-2016.
Marchetti earned a Bachelor's degree in Elementary Education with Certification in Special Education from Missouri State University and began her educational career as a research coordinator for a grant through Missouri State University. Upon conclusion of the grant opportunity, she started teaching in the Hillsboro School District, first in the High School Special Education Department then in first grade at the Primary School. While teaching, Marchetti went on to earn a Master's Degree in Educational Administration from Southeast Missouri State University as well as a Specialist Degree in Superintendency from Missouri Baptist University.
Marchetti has thoroughly enjoyed her time at Hillsboro Elementary and is grateful for the experience gained there. She looks forward to her new role saying, "It is an exciting opportunity to get to work with my Intermediate students again next year. I am blessed to have the unique experience of having my current students in the Elementary again in the Intermediate School."
Mrs. Marchetti has been married for 23 years to her husband Nick. The couple has two children and a dog. Their daughter, Sophia, is in her second year of college at the University of Missouri-Columbia. Sophia will graduate next year and plans to attend medical school at MU. Their son, Nicholas is a junior at Hillsboro High School. Nicholas loves all things sports. He plays football, soccer, basketball, and track. He hopes to play soccer in college. They also have a Golden Doodle, Bonnie, who loves to go for walks and car rides with the family. In their time off the family loves to travel together, especially enjoying the adventure of hiking in the mountains and being active outdoors. Mrs. Marchetti also enjoys reading, running and baking.
. . . . . . .
Murphy Named Future Principal of Hillsboro Junior High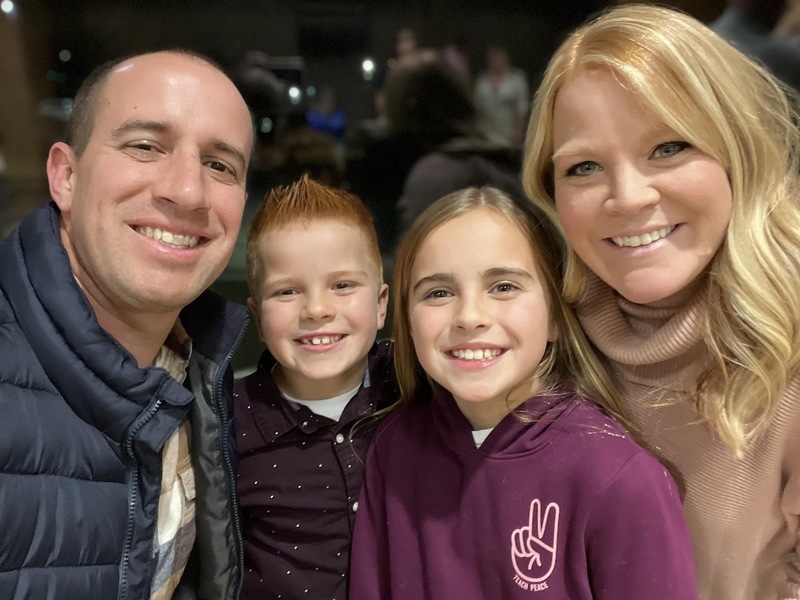 Mr. Murphy began his career in education right out of college, teaching at School of the Osage at Lake of the Ozarks where he taught 8th grade math and coached the 8th grade football and track teams. He and his wife moved to Tulsa, Oklahoma where Murphy taught 8th grade math, Project Lead The Way, and coached football for Union Public Schools. While at Union, he was promoted to serve as the District's Science Curriculum Specialist and STEM Coordinator. Upon returning to the St. Louis area in 2016, Murphy taught 7th grade science and 6th grade math at Sperreng Middle School while completing his Masters in Education Administration. In March of 2020, he accepted his current position at Washington Middle School in the Mehlville School District where he has been Assistant Principal for three years.
Mr. Murphy graduated from Marquette High School in the Rockwood School District in 1999. He attended Missouri State University, where he graduated with a B.S.Ed. in Middle School Education. He went on to earn both an M.S.Ed. in Middle School Math Education and M.S.Ed. in Education Administration from Walden University. In April, Mr. Murphy will graduate from Maryville University with an Ed.D. in Educational Leadership.
When asked why he chose to apply for a principal position with the Hillsboro R-3 School District, Murphy stated, "Over the past few years we, as educators, have talked a lot about why we do what we do. For me, in short, it is about building relationships and helping as many people as I can. This was the reason I pursued a leadership role at the building level, to support and empower teachers and students. I am thrilled to continue my education journey at Hillsboro Junior High School, and I look forward to serving our faculty and families. I am inspired by the sense of belonging at Hillsboro R3, and am eager to explore how we might further connect our school and community. I am grateful for your trust and support, and can't wait to meet the Junior High team."
Mr. Murphy and his wife Randi have two children: a daughter Alaina (11) and son Kellen (9). They also have a 7-year-old boxer named Roxy. Mr. Murphy enjoys attending his kids' events, spending time with friends and family, hunting and being outdoors in general, going to Cardinal's games, going to movies, and building with Legos.
. . . . . . .
Hillsboro R-3 School District Announces New Assistant Principal of Hillsboro Learning Center
Mr. William Reece has been selected as the Assistant Principal for the Hillsboro Learning Center beginning with the 2023-24 school year. Mr. Reece will fill the position currently held by Mr. James Ramsey, who will retire at the end of the year.
Reece has been an educator in the Festus R-6 School District for the past six years, currently teaching social studies at Festus Middle School. In addition to teaching, he is the Student Council and Fellowship of Christian Athletes Sponsor and Varsity Assistant Coach for track and field. Reece previously was the Head Coach for middle school football. Mr. Reece has served as the Department Curriculum Leader and is also a member of the District Professional Development Committee.
Prior to teaching at Festus, Reece was an educator in the Dunklin R-5 School District at Senn Thomas Middle School where he taught social studies for three years. In addition to coaching track and football, Reece created and sponsored a club called the STMS Community Service Club with the mission of encouraging students to take ownership of their community and inspire positive change through service. Over the course of each year, the club served over 1000 hours in the community. Additionally, Reece assisted with the development and launch of the Bright Futures program, served as a PLC Leader in the building, chaired the PBIS Committee at STMS and served on the Planning Facility and Building Needs Committee. Reece was named the Dunklin R-5 Teacher of the Year for the 2015-2016 school year.
A 2004 graduate of Herculaneum High School, Reece received an Associates of Teaching degree from Jefferson College in the fall of 2011 and went on to complete his undergraduate degree at Missouri Baptist University in 2013. In April of 2022, he completed a Masters of Arts in Educational Leadership from Southeast Missouri State University, earning certification as a K-12 administrator.
Mr. Reece is married to his wife, Laura. The couple has four daughters: Katelyn (16), Leah (13), Joanna (6), and Emma (3). The family has a golden retriever named Piper and a cat named Sassy. Reece enjoys spending time with his family and being outside hiking, rucking, fishing, hunting, working out and doing home improvement projects.
When asked how he felt when notified that he was the successful candidate to lead the Hillsboro Learning Center, Reece replied, "Excitement is the word that I would use to describe this new role. I am excited about this new journey. Hillsboro reminds me of the type of community that I grew up in. It has a small town feel, but a larger population. I am excited to meet my new students/ coworkers. I am looking forward to getting to know them and developing new relationships. My role is to be a resource to my students and staff. I am excited to learn about the Hillsboro community and to see how I can have a positive impact within the community. I am ready to get to work!"